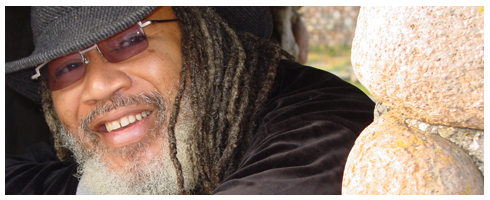 About Swami Gyankirti
Swami Gyankirti has combined the heart of many ancient, traditional, non-traditional and modern religions and teachings to produce a unique universal blend of teachings.  Under Swami Gyankirti's guidance, Healing, Empowering Energy Work, Meditation and Traditional African Spiritual Healing Methods, provide the essential foundation for Spiritual Empowerment and communion with the Divine.
His journey in healing and spirituality began over 45 years ago.  Living in an ashram for many years, The Swami learned and eventually taught yoga, and became committed to the practice & teaching of meditation, holistic medicine, and various forms of energy work.
In 1981, Swami Gyankirti established The Medissage Centers for Health Growth and Transformation to serve and heal the lives of people from all races, religions, cultures and walks of life. At Medissage Centers, people come to rest, pray, heal, and learn the life enhancing skills of meditation and self-reflection that create a more fulfilled and peaceful life.
Swami Gyankirti's vision is essentially a holistic one, serving to enlighten and empower mankind spiritually, emotionally, mentally, and physically; his approach is a "whole-body" approach.  As with all Healing work the aim is essentially to create oneness/wholeness.
Swamiji's sessions achieve this primarily by generating and circulating amounts of energy greater than what is normally utilized within the vessel commonly called the body.
This energy is then balanced, leaving one in a unique healing space totally distinct from where one was before. The New comes, cellular processes of regeneration and memory are stimulated, ego dissolves, you move out of the way and spirit happens, healing happens, oneness happens, wholeness happens, peace arises, love arises, the awareness of silence arises.
For over 45 years, His deep reservoir of Knowledge, Wisdom, & Healing has changed the lives of thousands around the world.  He works with individuals and groups of any size (the larger the better).  He has served globally in such diverse places as Norway, Denmark, Holland, Germany, Israel, The United Kingdom, France, Switzerland, India, Nepal, Liberia, Ghana, The Gambia, Rwanda, Burundi, Zaire (The Congo), Kenya, Tanzania, Somalia, Hawaii, and Malawi.
The World headquarters of Medissage Centers is in Mount Croghan, South Carolina, with satellite centers in Tonsberg, Norway and Nairobi, Kenya.  For more information on Medissage Centers and the work of Swami Gyankirti please visit www.medissage.org or contact our offices at
Medissage Centers
Noah's Ark
1117 Black Creek Church Road
Mount Croghan
South Carolina  29727
(843) 658-7062 and (843) 658 7063
email: medissage@sprintmail.com